Case date
14 July 2017.
Problem
Deposit Bonus cancellation algorithm.
Deposit Bonus campaign overview
In Summer 2017, DuckDice introduced deposit bonus campaign. It is still visible on our Bonuses page: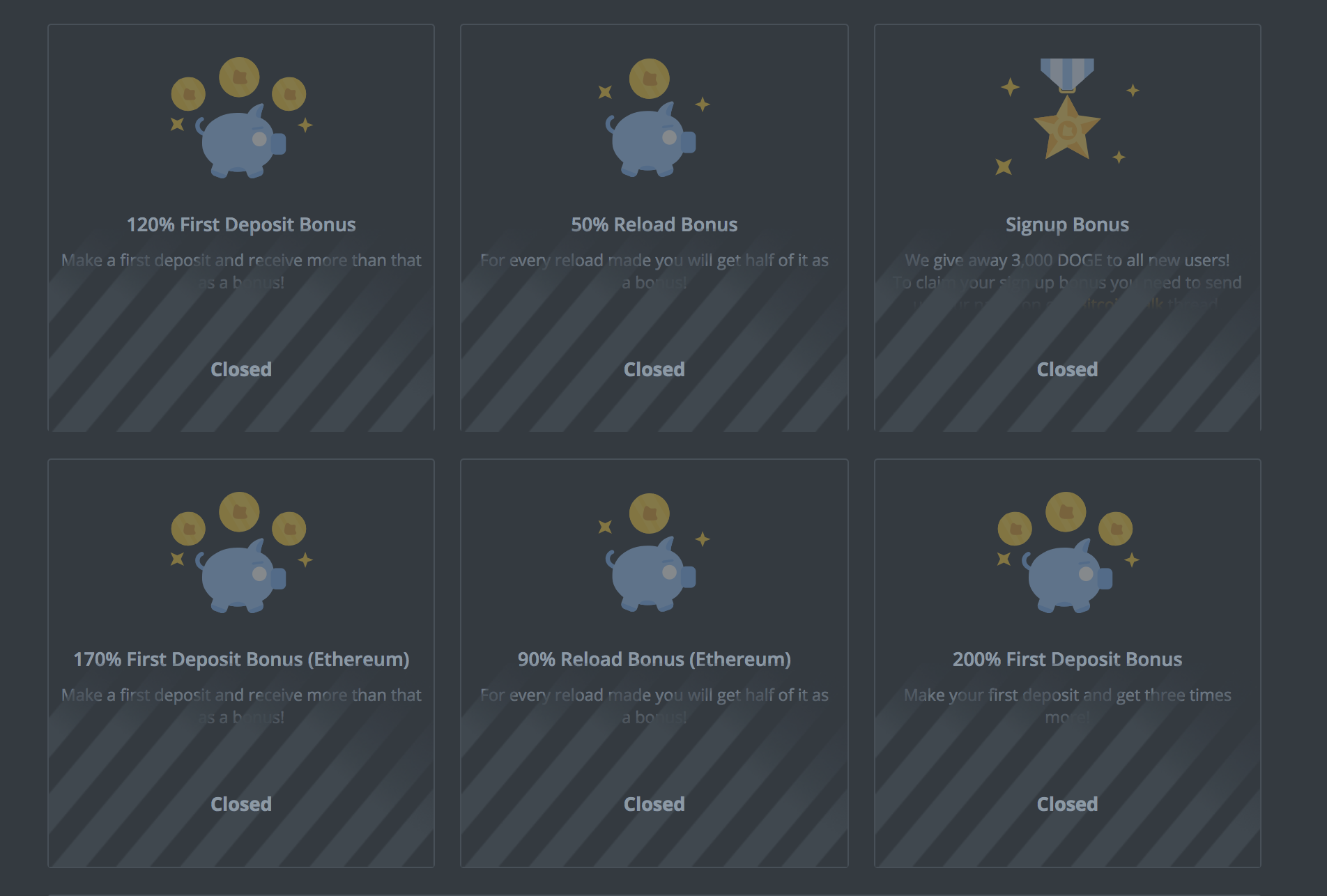 The bonus idea was to credit additional % from the deposit amount. In order to avoid a situation when DuckDice member makes a deposit, claim bonus and make a withdrawal the bonus was locked until certain wager requirements will be met.
This is a common system with this type of bonuses which was adopted by DuckDice from the dice world.
Deposit Bonus campaign issue
The Deposit Bonus was designed for the advanced user who are familiar with "wagering requirements" for locked bonuses. Once claim the bonus and started to wager he could only cancel the bonus with a penalty - this was the logical shortcoming.
On clicking "Cancel Bonus" player must've agreed with two confirmation screens, which looked like this: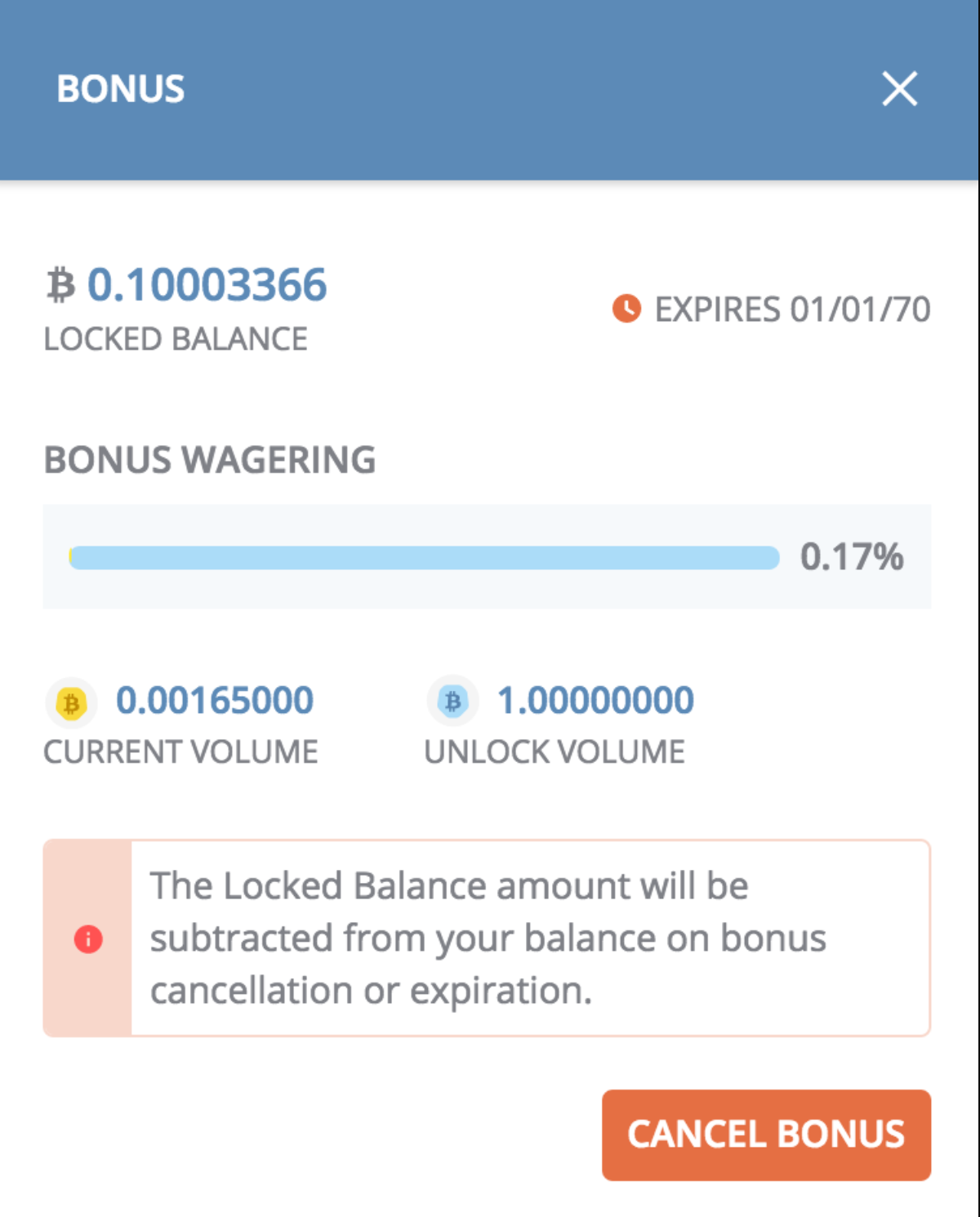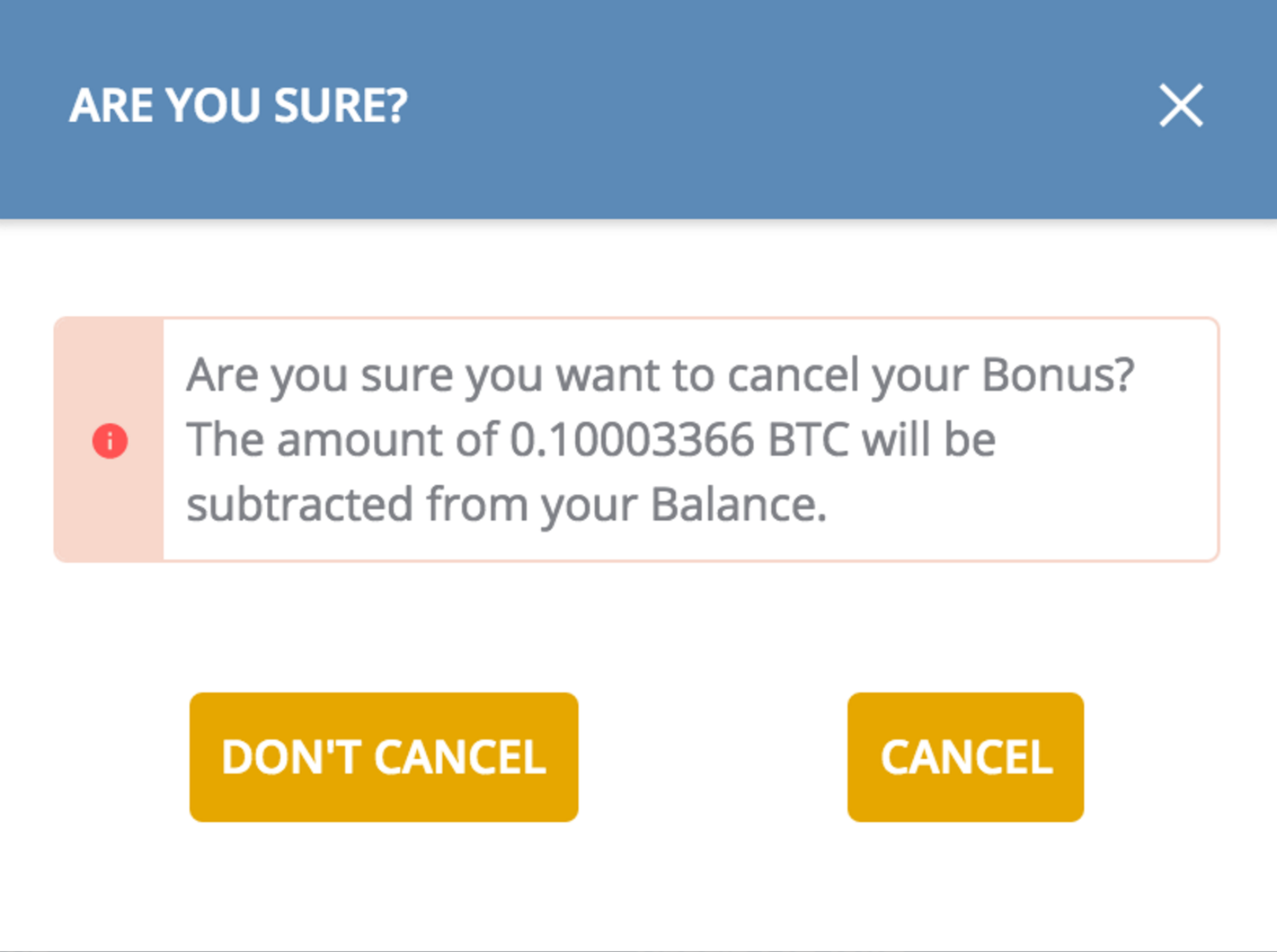 The core of this issue was this cancelation algorithm, the amount to be subtracted upon bonus cancellation was poorly tested and could have let to full deposit and bonus substraction.
We had many members who claimed this type of Bonus and won big but for whatever reason, we didn't hear complaints regarding cancellation and therefore cancellation algorithm issue was remain unknown for DuckDice administration.
The scam accusation case
The problem started when one player @Ozafejyw782 deposited 2 BTC and claimed 100% Bonus, so he received bonus of 2 BTC, in total his balance was 4 BTC.
In the middle of a wager, this user decided to cancel bonus, with an intention to withdraw his winnings even though wager requirement has not been met and a huge locked progress bar was in the middle of the screen. Unfortunately, we do not have this functionality anymore and cannot show how it looked.
So @Ozafejyw782 ignored confirmation messages, didn't contact the support or admins and ended up with 0 balance.
The Case Resolution
DuckDice administration was confronted by a user who demanded a refund for not only his initial deposit (2 BTC), but also a still locked bonus (2 BTC) and wagered winnings (+ about 5 more BTC). We would like to emphasis that user did not met the wagering requirements and his bonus was only unlocked for about 10%, this is important because without the bonus, he would not be able to reach profit of 5 BTC.

Since user didn't met the wagering requirements for making a bonus a part of his real balance, it is logical that no winnings can be kept [refunded] as those winnings would not be possible without the bonus money.


DuckDice has refunded full initial deposit amount - 2 BTC.
The Case Legal Resolution
The DuckDice operates under the License No. 8048/JAZ issued to Antillephone, Authorized and Regulated by the Government of Curacao.
On the 23rd of May 2018, licensor received a claim from the Ozafejyw782. The user requested licensor to step in the Case Dispute and after the case discussion on the 26th of May licensor made his verdict.
And here is an official answer from the licensor:

Those who doubt the authenticity of this letter feel free to contact the licensor, the link is in the bottom of the DuckDice site.
Feel free to ask DuckDice admins, mods, or our community on BitcoinTalk any information.
Or you can send a on-site direct message to Ozafejyw782, he was playing with DuckDice's faucets this year.