So you want to roll super fast and save your fingers from clicking over and over? Good news, you can!
Before you do though, make sure you understand the settings!

Here is how DuckDice autobet looks like: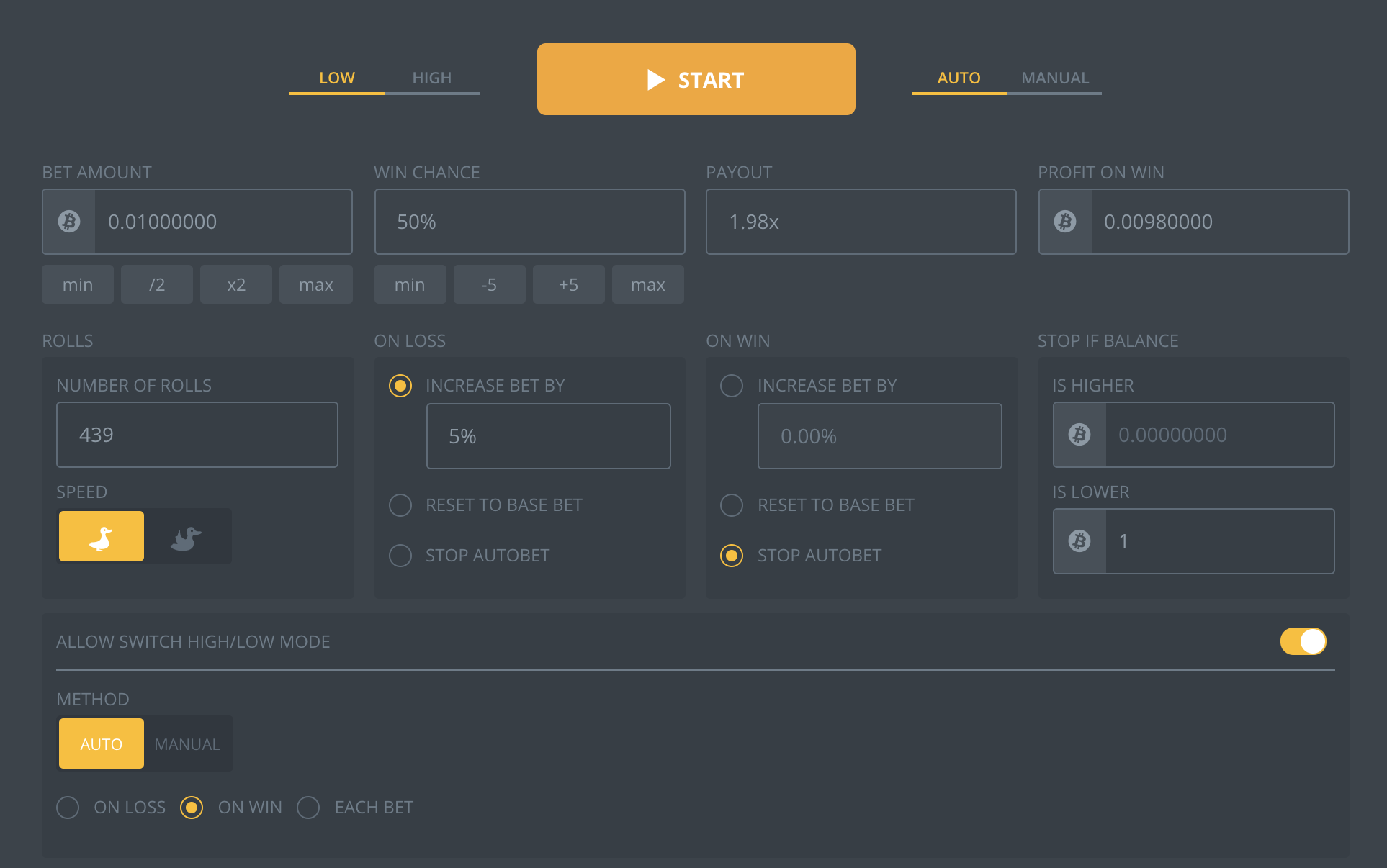 And before trying it out, please carefully read what each of these field means:

Bet amount: In this field, simply put how much crypto currency you wish to play per bet, remember, auto-roll goes fast! So make sure you have set the amount correctly.

Win chance: In this field, put in what % you wish to play for, this will also automatically change the "payout" field, you can bet anywhere between 0.01% (9900x) your bet amount, all the way up to 98% (0.02x your bet amount).

Payout: In this field you can put in what payout you wish, for example 99x is 1%, 2x is 49.5%, like win chance, whatever you put in this field, will automatically change the "win chance" field and vice versa.

Profit on Win: this field automatically changes based on bet amount, win chance/payout fields. And cannot be altered by you, it simply lets you know how much you could win

Rolls: This field you leave blank if you wish to roll for a unlimited amount of rolls (or until your balance cannot bet anymore at the bet amount you've chosen), or set it for 100, you will roll for 100, set it to 5, you will only roll 5 times, input any roll limit you wish.
Increase bet by: in this field, you put a % you want to increase or decrease your base amount after a lost or won bet.
If you are betting and you want your bet to increase by 1% simply enter 1%.
If you wanted to decrease? The same but in reverse, want to decrease by 1% simply enter -1%.

You can have both On Win and On Loss increase set at the same time, however, be careful to make sure your balance can cover the wild increases.
Reset to base bet: enabled by default, this option will switch every consequent bet amount to the initial value that was set in the start of an autobet session. This option will disable On Loss/On Win.
Stop autobet: once enabled, this option will stop autobet either after first won bet if under On Win, or after first lost bet if under On Loss.
Stop if balance: in this field you can set a min and max balance that the autobet will not let you go under or above.
IS LOWER – autobet session stops if your balance is less than the specified amount.
IS HIGHER – autobet session stops if your balance is greater than the specified amount.
For example, you start with 300k satoshi and don't want to spend more than 150k in this session, so you may set IS LOWER 0.0015. Or set IS HIGHER 0.006 if you want to change tactics after doubling the balance.
Allow switch High/Low mode: you can switch High/Low mode during the autobet session if this option is on. High/Low mode can be switched automatically or manually.
While using automatic switching you may choose one of the following methods:
On Loss - after every lost bet the side will be switched to an opposite from what it were.
On Win - after every won bet the side will be switched to an opposite from what it were.
Each Bet - change side after every bet despite bet result.
You also may switch High/Low mode manually during the autobet.
Be aware switching mode manually! High/Low mode may switch later than expected in case of the slow Internet connection and cause unsuspected effects!