User level counts based on Qualified Wager amount which is a part of a Total Wager amount – summarized wagered amount for all currencies.
We have a limited amount of places for each level:
top 50 - 5th level;
top 100 - 4th level;
top 250 - 3rd level;
top 500 - 2nd level;
top 1250 - 1st level.
You can check your position inside the level on your user statistics page under a user menu: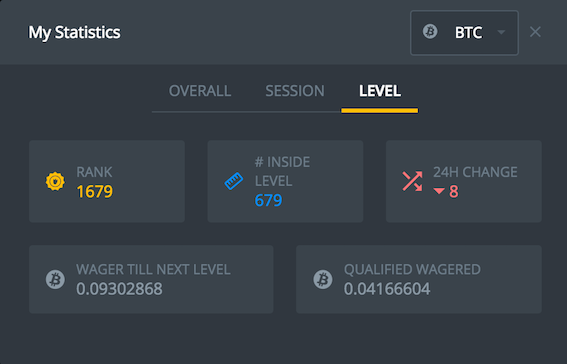 Rank - is your overall game place, among all players.
#Inside Level - your place inside your level, so if we will take this screenshot it means that there 678 players whom you need beat in order to level up.
24H change - how many places you've won or lost in the past day.
Wager till next level - how much more you need to wager in order to level-up.
Qualified Wager - read here.
Levels statistics is updated hourly.