Read about deposit bonus case here.

DuckDice.io is a trusted and licensed online cryptocurrency dice game. There are many scam dices around the internet so you should be careful or you can become a fraud victim. Here we will explain why DuckDice is not a scam site, why it is provably fair, and trustworthy.
Is DuckDice.io scam?
The short and certain answer will be No. Do not worry we will explain why.
Could I believe this info?
Yes. Keep reading for more information.
"I'm not sure I can believe these statements." Where can I get additional proof?
You can ask our valuable Moderators ("Mods")s, VIPs, Admins, or any other player in the chat if they have ever been scammed here. To find them just go to DuckDice Chat online players list, or post your question directly in chat: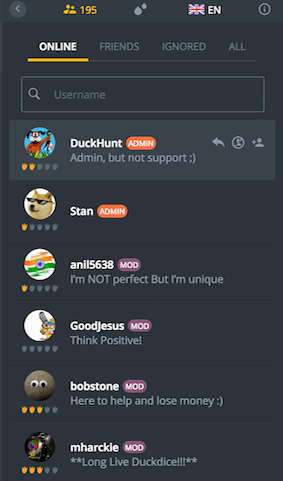 Okay Duck, if you are as fair as you say, can I ask for a download of all my 1,745,912 bets?
Just go to My Bets and press Download, little Hercule Poirot.
Still not convinced? Keep reading:
We acknowledge there are many shady dice sites around, however, DuckDice is 100% legitimate:
We are Provably fair
We pride ourselves on our provably fair system, it is integral to running a legitimate gaming website. Not only can we not alter your bets, but you can verify for yourself how your bets werecalculated. This was originally a unique area of development in the gambling world and while we are seeing other sites use similar systems, we have been using it from day one.
We have a informative guide posted on both the site and in the help center as to how the provably fair system works. However, if you ever have any questions a dedicated team is available most hours of the day, seven days a week to answer them.
Why wouldn't we scam you and just disappear?


Aside from this being a ridiculous question since we have been online for years, we continue to have ambitions to become one of the friendliest, fairest, and fun dicing sites around. We've had some great successes over the last year and the main goal on our mind is on how to improving the site for our users. To defraud our users (see provably fair) goes against the core of our gaming site.

Do we pay out?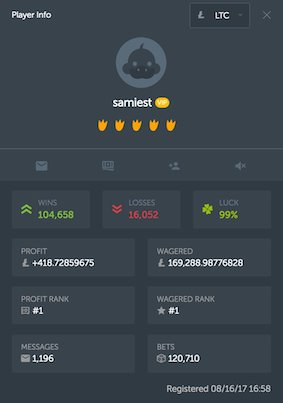 Please come join the community and talk with our many satisfied successful users who've received incredible payouts from their gambling luck.

I've read some bad press about you


If you look hard enough you can find bad press about any site online, from Google to your mother's ebay page. Of course, while you are on Duckdice you'll only find good things being said about us. The fact of the matter is as a young site, very important lessons were learned in the way we offer our bonuses, and we have completely reworked the system. We erroneouslyunderestimated how powerful a user error can be which ultimately lead to our reputation being damaged. We assure you that this won't happen again, user satisfaction is one of our most important goals. We are working and will continue to work hard on ensuring all our bonuses and offers are clearly understandable and user error proof as possible.
The only issue we have had in our entire history was with our Deposit Bonus campaign which as previously stated, was completely reworked. DuckDice has never had a history of not paying out or not crediting deposits.